Our goal at Claddagh is to produce German Wirehaired Pointers that are truly versatile hunting companions with strong natural instinct.  Dogs aren't added to our breeding program until they have proven themselves as ideal hunting dogs, conformation champions that meet breed standard, meet health testing requirements, and have successfully tested in advanced sanctioned hunting trials.
We believe testing programs from North American Versatile Hunting Dog Association (NAVHDA) and American Kennel Club (AKC) are excellent tools to help assess a dog's working potential.  Since our puppies go to homes across the country, we require all pups run in a NAVHDA Natural Ability test, so that we're able to get a better understanding of what each of our breedings produce.  See NAVHDA's test rules for more information.
Since puppies aren't always available, we recommend you contact us early, as we usually have a lengthy waiting list.  Some people are on our waiting list for 2-3 years, as we match our puppies with owners, and just because there is a puppy available, doesn't mean it's a good match for every home.
If you are interested in our dogs or puppies from us, we strongly recommend you come visit and watch them work in the field. We want you to see for yourself their hunting style, temperaments, and get your hands on them and feel their coats. We are extremely proud of the dogs we produce at Claddagh!
The best way to contact us is via email claddaghkennel@gmail.com, as the first step in getting a dog/puppy from us is filling out our questionnaire.  We have you fill this out so we get to know you better, what your goals and objectives are, and if it matches ours.  We aren't the typical breeder that just sends a puppy out the door and you never hear from again.  We expect and seek frequent contact, as well as provide lifetime mentorship.
-Puppies-
Due April 2018
RAPTOR    X    STACHA
CH Claddagh's Dual Threat NAI SH  x MBISS GCH Claddagh's Fast Stache NA1 MH UTI
 We've been waiting a long time for the opportunity for such a promising linebreeding! This mating is concentrated on Raptor and Stacha's dam, "Dora" CH Ripsnorter's Mt View Explorer SH, who continues from a strong, top producing maternal line.  While being able to incorporate outcrosses of our Top Producing sires (Timo and Bisto) imported from the UK, out of Germany and Italy's finest! We expect this litter to produce GWP's that will excel in the field, have outstanding structure, great coats and temperaments.  Raptor and Stacha are both CHIC health tested; hips, elbows, cardiac, thyroid and eyes.
Raptor is a medium sized dog, with a medium dense, harsh coat.  He has a fantastic temperament, with a loving, goofy personality.  Raptor hunts at a medium gun dog range.  We have personally hunted pheasants and ruffed grouse over Raptor.   He has proven himself in the field and ability to train and test as a broke dog, gaining a NAVHDA NA Prize I, and AKC Senior Hunter.  Raptor finished his AKC show champion title easily earning majors and GWP Specialties, then finished going Winner's Dog, Best of Winners, and 1st Award of Merit at the GWPCA National.
Stacha, aka The Stache has been one of the most cooperative, trainable gwp's we've had the pleasure to work with.  She has always had a love for retrieving, and swept through Senior Hunter testing with 5 easy passes, at just barely 2 years old. While she's not a big running, horseback dog; Stacha stays forward, consistent, and hunts objectives.  She has beautiful style on point.  Summer of 2016, Stacha earned her NAVHDA Utility Prize II then a month later ran AKC Master Hunter tests, passing all 5 legs in a row.  She quickly and easily gained her AKC Show Champion title in just two weekends.  Winning Best of Breed from the classes at 6 months old, then later winning Best of Breed from the Bred by Exhibitor class over 8 specials at a GWP Specialty.  Stacha then won Select Bitch and Best Bred By Exhibitor at the AKC/Eukanuba National Invitational under 2 years old over top ranked GWP's.    We've enjoyed hunting Stacha on grouse, woodcock, pheasant, and chukar all across the US since she's been 6 months old.  Stacha earned a NAVHDA Utility Prize 1 with a perfect score of 204 points in Summer 2017, which qualifies her to run in the Invitational in September 2018.
All owners will be obligated to test these puppies in minimum of NAVHDA Natural Ability.
For more information, and to receive our puppy questionnaire, email us at claddaghkennel@gmail.com
Pedigree for Raptor x Stacha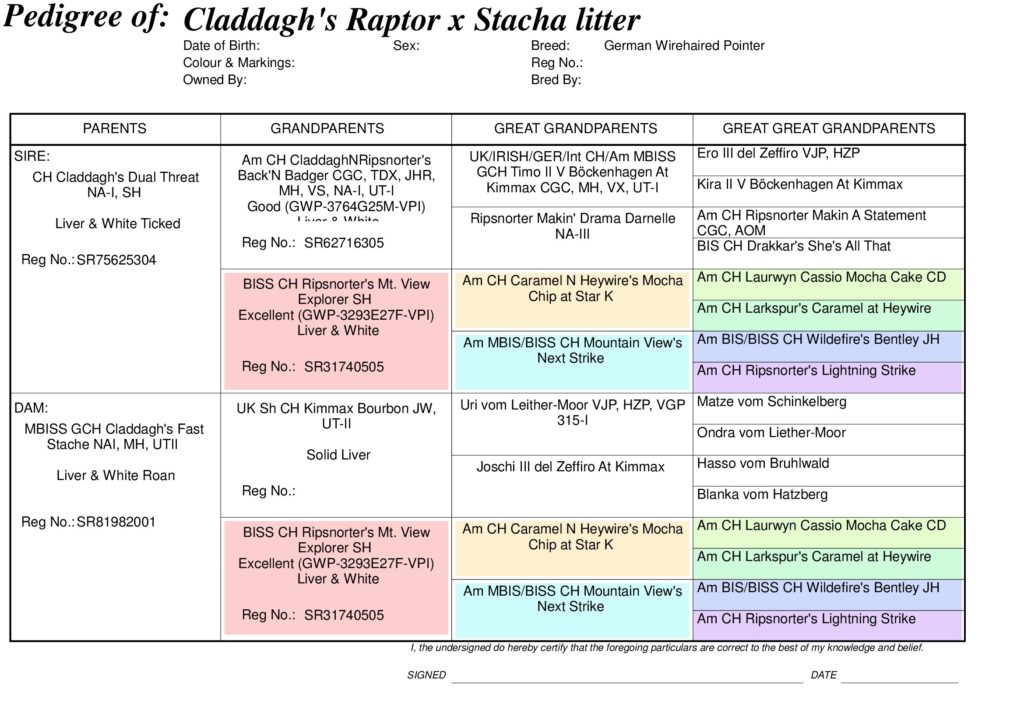 -Started/Finished Dogs Available-
None available at this time
 – Breedings Planned With Our Stud Dogs-
None available at this time
To get on our waiting list for a future litter, request our puppy questionnaire, email claddaghkennel@gmail.com
What To Expect When Getting a Claddagh GWP Puppy/Dog:
*Fully health tested sire and dam, including: Hips, Elbows, Thyroid, CERF, and Cardiac
*Esteemed and Accomplished Hunting Titles on sire and dam (much more advanced than the puppy Junior Hunter and Natural Ability tests)
*Show champion sire and dam, which credits that the dog has defeated several other gwp's in a competitive show ring, exhibiting proper breed type and conformation.  To date, all Claddagh dogs have earned their show championship being shown by their owners, or us the breeder, no professional handlers necessary.
*All of our dogs are hunted heavily each year on wild birds.  Our favorite, grouse in northern Wisconsin, to pheasants in South Dakota, as well as huns and chukar in Oregon.
*Lifetime support and mentorship in every aspect of the German Wirehaired Pointer.  We have trained for, hunted and competed in the most esteemed events and places, and shown in the most prestigious of dog shows.. we enjoy helping people meet and exceed their goals with their dogs!
*Educated and experienced breeders…. BS Degree in Biology and Animal Science, as well as over 10 years experience working as a veterinary technician, with special interest towards nutrition and canine athletics.  Each year we take advantage of several opportunities for continuing education.
*We provide heavily discounted professional gun dog training, exclusive to our puppy owners.
*All of our puppies are raised in the house.  We take socializing in earnest, getting many visitors of all ages and sizes, take the pups to different environments, and around other dogs and animals.
*All of our puppies are evaluated by a panel of outside experienced evaluators at the age of 8 weeks.
*All of our puppies get bird exposure and are evaluated for field ability.
*We only breed when we want something from the litter for ourselves, which is typically only 1 litter per year.
*Puppies are all dewormed, vaccinated, microchipped, and DNA'd before 8 weeks of age.