VC MBISS GCH Claddagh's Fast Stache MH
"Stacha"
(US Ch/UK Sh Ch Kimmax Bourbon JW UTI X Ch Ripsnorter's Mt View Explorer SH)
Owner: William & Courtney Bastian
Breeders: William & Courtney Bastian
Stacha is the whole package!  AKA "The Stache", she gets her name from her perfect little white mustache! Stacha makes heads turn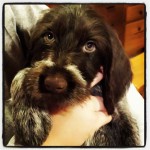 whether it's in the field or show ring.  She quickly and easily gained her AKC Show Champion title in just two weekends.  Winning Best of Breed from the classes at 6 months old, then later winning Best of Breed from the Bred by Exhibitor class over 8 specials at a GWP Specialty.  Stacha then won Select Bitch and Best Bred By Exhibitor at the AKC/Eukanuba National Invitational under 2 years old over all time top ranked GWP's.  At the 2016 GWPCA National in Oregon, Stacha won Best of Opposite Sex over 62 other GWP's. Stacha is always exclusively breeder/owner/handled by Courtney.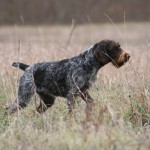 Stacha isn't merely a star "show dog", she shines even more in the field! She received a perfect score of 112 points, earning a Prize I in the NAVHDA Natural Ability test.  Stacha has been one of the most cooperative, trainable gwp's we've had the pleasure to work with.  She has always had a love for retrieving, and a natural honor, so she swept through Senior Hunter testing with 5 easy passes, at just barely 2 years old.  In Fall 2015, we tried her in a couple field trial Derby stakes, where she earned 1 derby point and defeated 15 dogs.  While she's not a big running, horseback dog; Stacha stays forward, consistent, and hunts objectives.  She has beautiful style on point.  Summer of 2016, Stacha earned her NAVHDA Utility Prize II then a month later ran AKC Master Hunter tests, passing all 5 legs in a row! In Summer 2017, Stacha tested in NAVHDA Utility, and earned a perfect score of 204 points, and a Prize I, which qualified her to run in the 2018 NAVHDA Invitational.
Displaying her incredible trainability, after literally, a handful of opportunities to train for the Invitational, Stacha pulled it off and earned the coveted Versatile Champion title! She joined the rankings of only one other GWP, our Karmin, to become a Versatile Champion/Champion/Master Hunter!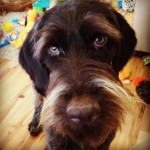 Stacha has been a great addition to our family.  We've enjoyed hunting her on grouse, woodcock, sharptail, huns, and pheasant since she was 6 months old.  She's the best snuggler, if you stop petting her, she will paw at you to demand continuous attention!
NAVHDA Career Stats
Natural Ability Test – Prize I
N-4, S-4, W-4, P-4, T-4, D-4, C-4 = 112 points
Coat rated: Dense, Harsh
Utility Test at 3 yrs, 5 mo old
Prize I
Water-44444 Field-44444 T/OUT-44444 =204 points
Coat: Medium Dense, Harsh
Invitational Test at 4 years, 6 mo old
Water-34343 Field-44434 T/OUT-44 33
Score – 183, Pass
AKC Hunt Test Career Stats
AKC Senior Hunter – 5 Passes
Water Test – Pass
AKC Master Hunter – 5 Passes
AKC Field Trial Career Stats
1 Point – Derby Stake
AKC Show Career Stats
Sheboygan Kennel Club – Winner's Bitch/ Best of Breed – 3 pt major
Sheboygan Kennel Club – Winner's Bitch/ Best of Breed – 3 pt major
GWP Club of WI Supported Entry – Best of Winner's – 4 pt. major
GWP Club of WI Specialty – WB/BOW/BOB over 8 Specials – 5 pt major
2015 National Best In Maturity
2015 AKC/Eukanuba Invitational – Select Bitch & Best Bred By Exhibitor
2016 GWPCA Regional – Best of Opposite Sex
2017 GWPCA National – All Star Invitational People's Choice Winner
Health Stats
Hips – Good
Elbows – Normal
Cardiac (echo by cardiologist) –Normal
Thyroid – Normal
Eyes – Normal

Date of Birth: 3/9/2014
AKC#: SR81982001
NAVHDA #: GWP-009155
AKC DNA#: V733646
Height: 22.5″
Weight: 54#
Pedigree