(UK) Sh Ch / German Ch / Irish Sh Ch/ International Sh Ch/ US MBISS GCh Ch Timo II V. Bockenhagen at Kimmax (European Winner 09) CGC, VX, MH, UT 1
"Timo"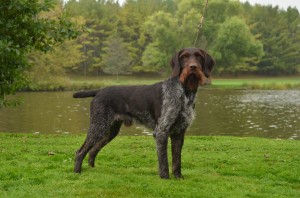 Owner: Peter & Maxine McCullough
Timo is the ideal GWP, he has an incredibly harsh, dense coat, that covers his entire body. He has great depth of chest and well sprung ribs for lung capacity to hunt all day. Timo has a broad, parallel head making him capable to retrieve a full sized Canadian Goose. On top of his good looks, he has incredible field capabilities. He came to the US with previous training in the UK where dogs flush their own birds then sit before they're sent for the retrieve. It took Timo only a short time to keep steady to wing and shot and stay standing. When he's out in the field, he's having fun and working at every moment for his handler. He's so excited after he's brought a retrieve to hand that he rolls over on his back, legs straight up in the air asking for belly rubs, which goes to show his fun-loving character. Timo's water work and tracking abilities are bar none his best working qualities. When taken to a pond, he will search for hours, first all the way around the bank, then second time around in water's edge through any thicket. Our favorite aspect about Timo is his temperament.  He's calm and content in the house, lays around on the floor or couch and never barks, and when you get him in the field he turns on and is the ultimate hunting dog. Saying goodbye to this dog the end of 2011 will be very difficult for us, but we're gracious to Peter and Maxine of Kimmax to give us such opportunity and joys with their boy. We've had the pleasure to incorporate him into our breeding program and looking forward to his offspring being as versatile, and a pleasure to be with, as he is.
Timo has already proven himself as an impeccable stud dog by his winning and competitive progeny. He stamps himself on his offspring with his incredibly harsh, correct coat, fabulous front and rear assemblies, and superb temperament. Steady and honest in the field, Timo has proven himself to be a truly versatile dog with excellent features. Timo has made breed history as he's now one of only 10 GWP's to earn both a show champion and NAVHDA UT1 titles after being in the US for only 9 months! And finished the coveted Master Hunter title right before his return back to the UK.
Timo is owned by Peter and Maxine McCullough of Kimmax GWP's/DD's in the United Kingdom, to find more pictures and information of Timo and Kimmax, go to their website www.kimmax.co.uk
NAVHDA Career Stats
Utility Test Prize I
Water – 44443, Field – 44334, T/OUT – 44433 = 189 Points
Coat: Medium Dense, Harsh
AKC Career Stats
GWPCA 2009 Nationals – Reserve Winner's Dog
Long Beach, CA KC 12/11 – Best of Breed (over top ranked specials) – 3 pt. major and Group 4
Eukanuba/AKC World Championship 12/12 – Award of Merit (over specials)- 1 pt.
Skokie KC Xmas Cluster 12/20 – Best of Breed (over specials)- 4 pt. major
Skokie KC Xmas Cluster 12/21 – 2 pts.
Twin Cities, MN KC 1/9 – Specialty Best of Breed – 3 pt. major
Twin Cities, MN KC 1/10 – Winner's Dog – 1 pt.
International Kennel Club – GWP Specialty 2/26 – Best of Winner's – 5 pt. major
GWPCA National All Star Invitational Winner – 10/4
GWP Club of WI Specialty – Specialty Best of Breed
AKC Master Hunter with 5 passes
Crufts 2012 – Best of Breed
Health Stats
OFA Hips – Good
OFA Elbows – Normal
OFA Cardiac – Normal (Cardiologist, Echo)
vWD – Clear
Thyroid – Normal
CERF – Normal


Date of Birth: 6/6/06
AKC#: SR59070601
NAVHDA #: GW-007661
AKC DNA#:  V531053
Height: 26″
Weight: 75 lbs.
Pictures and Information on Timo Offspring:
TimoXHalleberry
TimoXKatie
Pedigree for Timo
Sire

Ero III del Zeffiro

Sire Gero IV Vom Donaueck
Sire Ero II v.d. Wupperaue
Dam Vini vom Donaueck
Dam Honda del Zeffiro
Sire Hugo vom Dyckhorst
Dam Xyla del Zeffiro
Dam

Kira II v Bockenhagen At Kimmax

Sire Zorro vom Rodlberg
Sire Justus vom Mooslahner
Dam Wicki vom Rodlberg
Dam Wenke v Bockenhagen
Sire Tell v Bockenhagen
Dam Nora v Bockenhagen